Mic - K17 kid microphone toy manufacturers
Microphone DESIGN FOR KIDS: Lightweight and stylish karaoke wireless microphone is small and portable, convenient to carry the microphone with you.Your child will love it to practice and share the favorite songs on music app by connecting the microphone with your smart device.This is definitely an unexpected special gift for your kids,allowing them to have great fun singing with this multifunctional microphone.

local_shipping Fast Shipping, Fortech`s Kids Microphone supports wholesale and OEM orders. We also have stock in the US. Contact us now to get a quote!
This Kids karaoke portable microphone which features 5 in 1 is designed for kids with the purpose of "Let every kid shine like a star"!
How many times, when you were small, did you pick up a shampoo bottle and begin singing into it as if an entire audience of thousands was applauding you in the stands? In every child, there is a star dream who wants to sing out loud and imagine he or she is a superstar!
The MIC-K17 microphone has a wonderful color combination with a cute cartoon design. No matter who you purchase this as a gift, everyone is going to fall in love with it. It has a Voice-Changer, Special Sound Effects, Recording, Playback, and 8 pre-recorded songs – all of which are highly entertaining for kids. With a built-in rechargeable 1200 mAh battery, continuously works for 4-8 hours with a full charge.
In case you have a karaoke setup at home and your baby wants to sign with you. The idea of getting the karaoke microphone for kids would be an awesome solution. Let's take a close look at the product.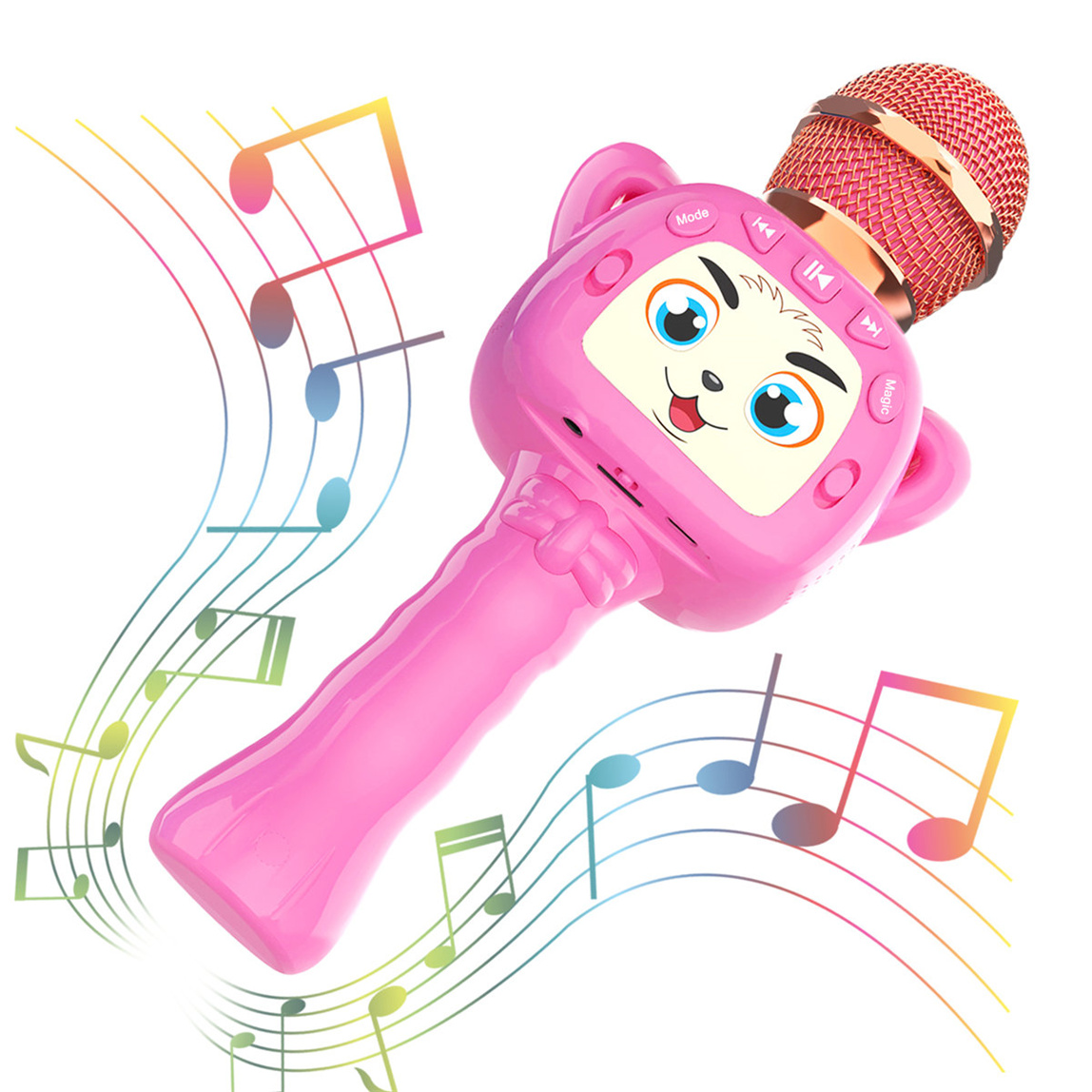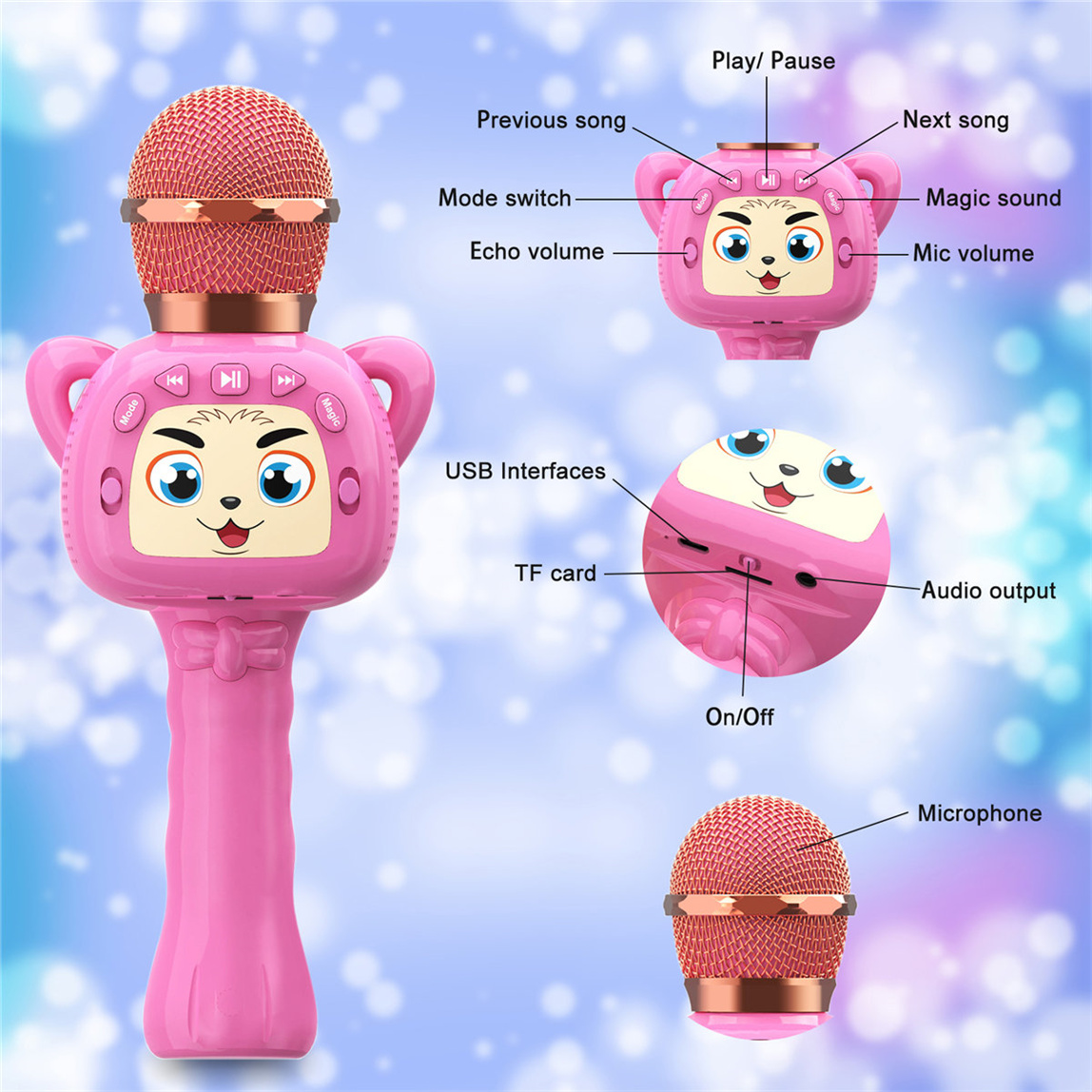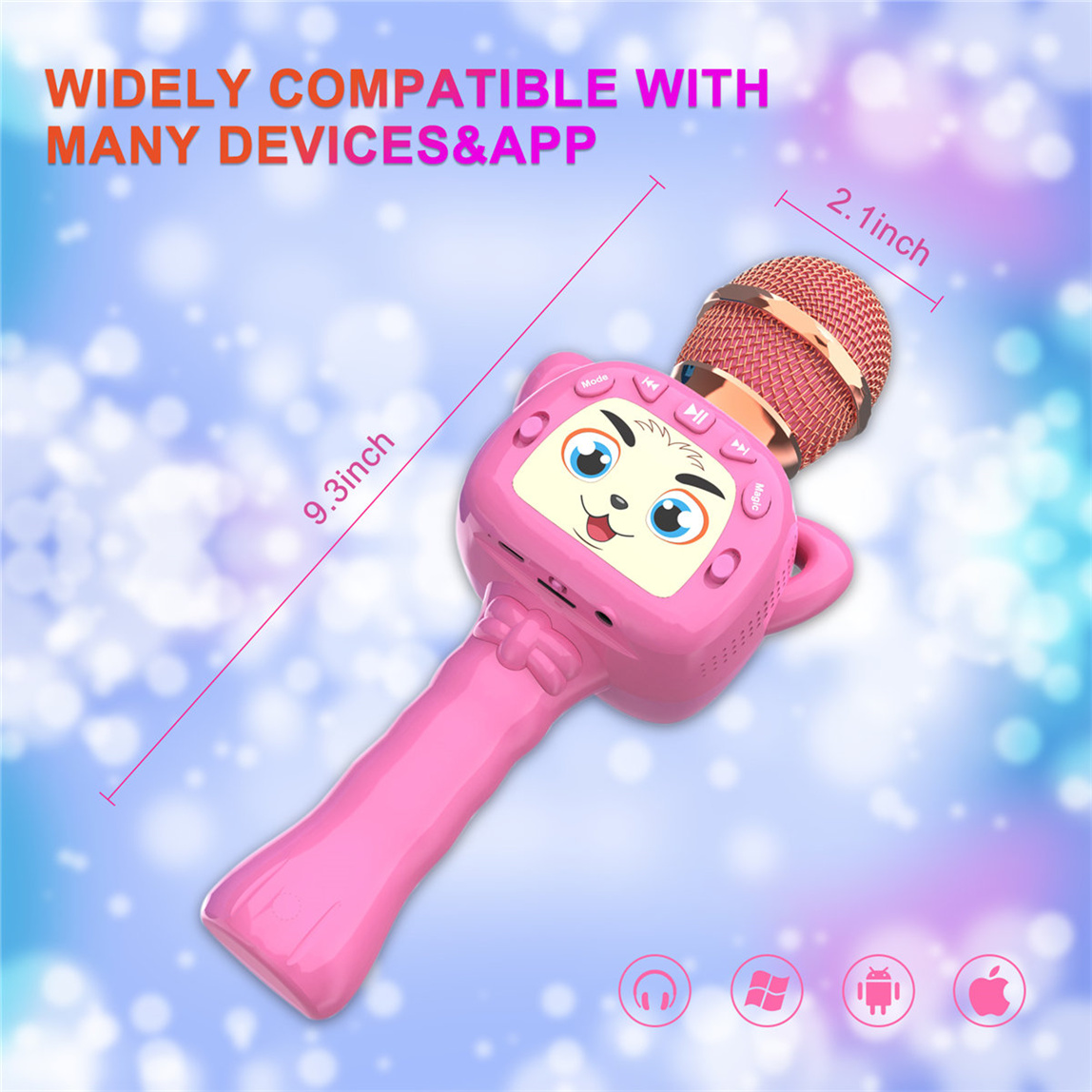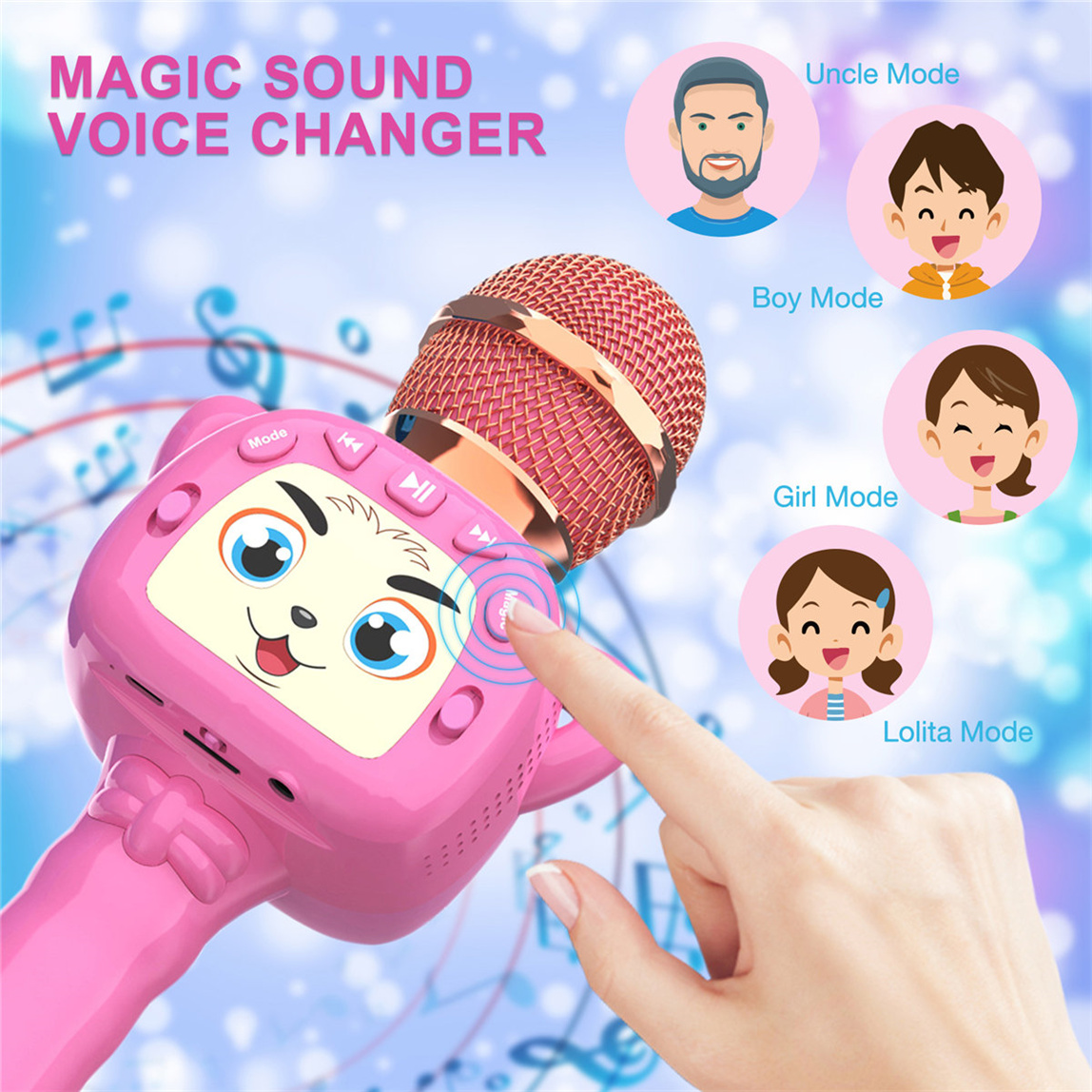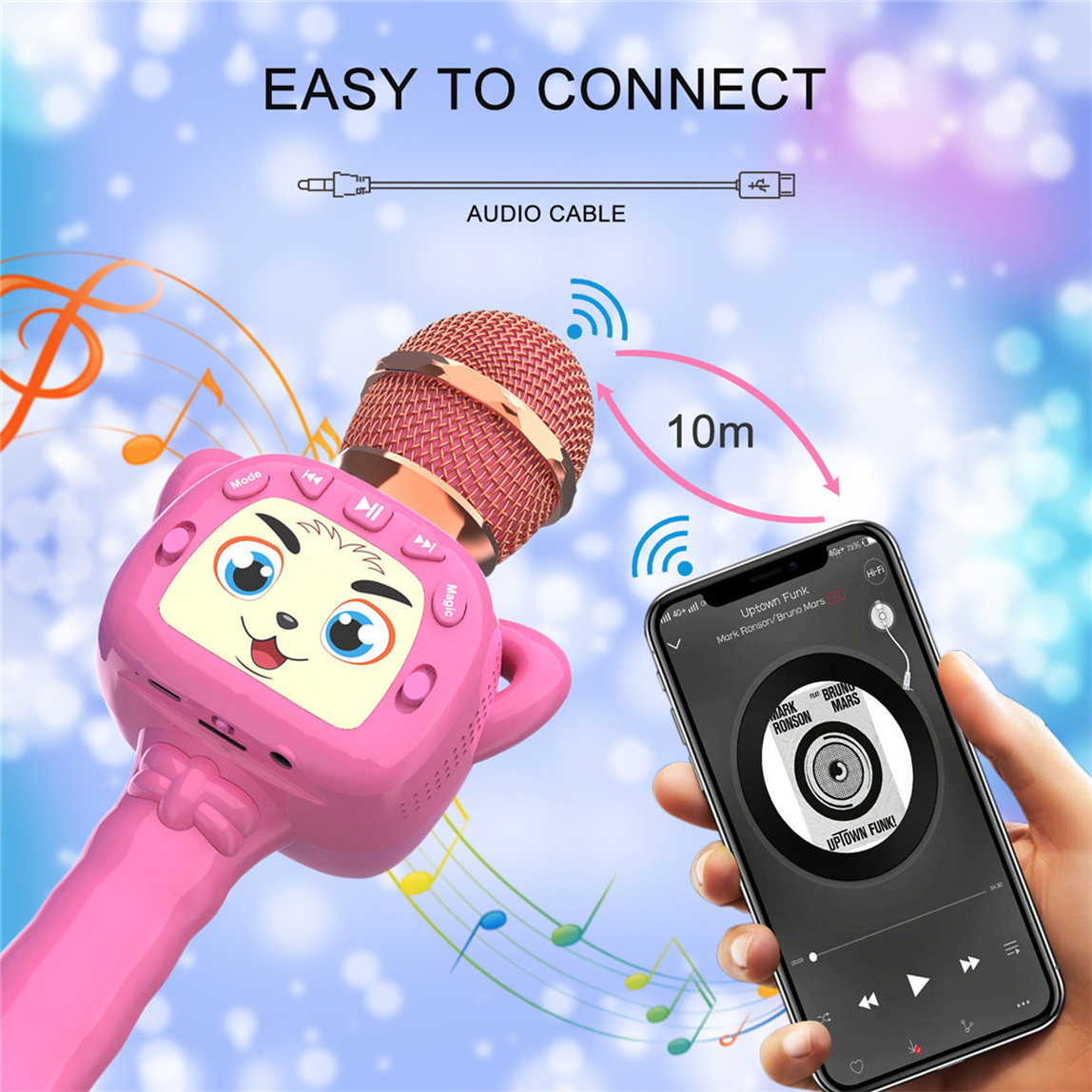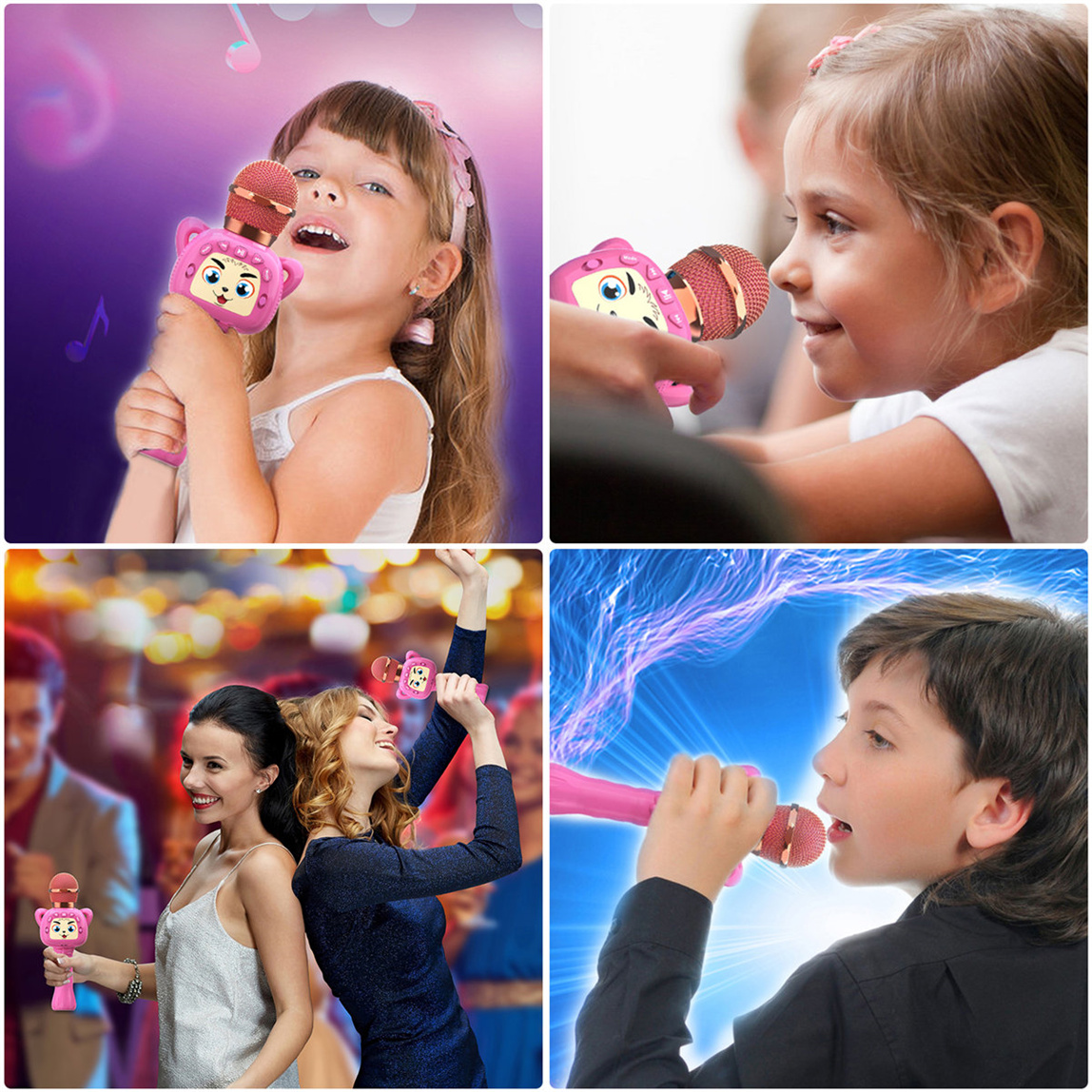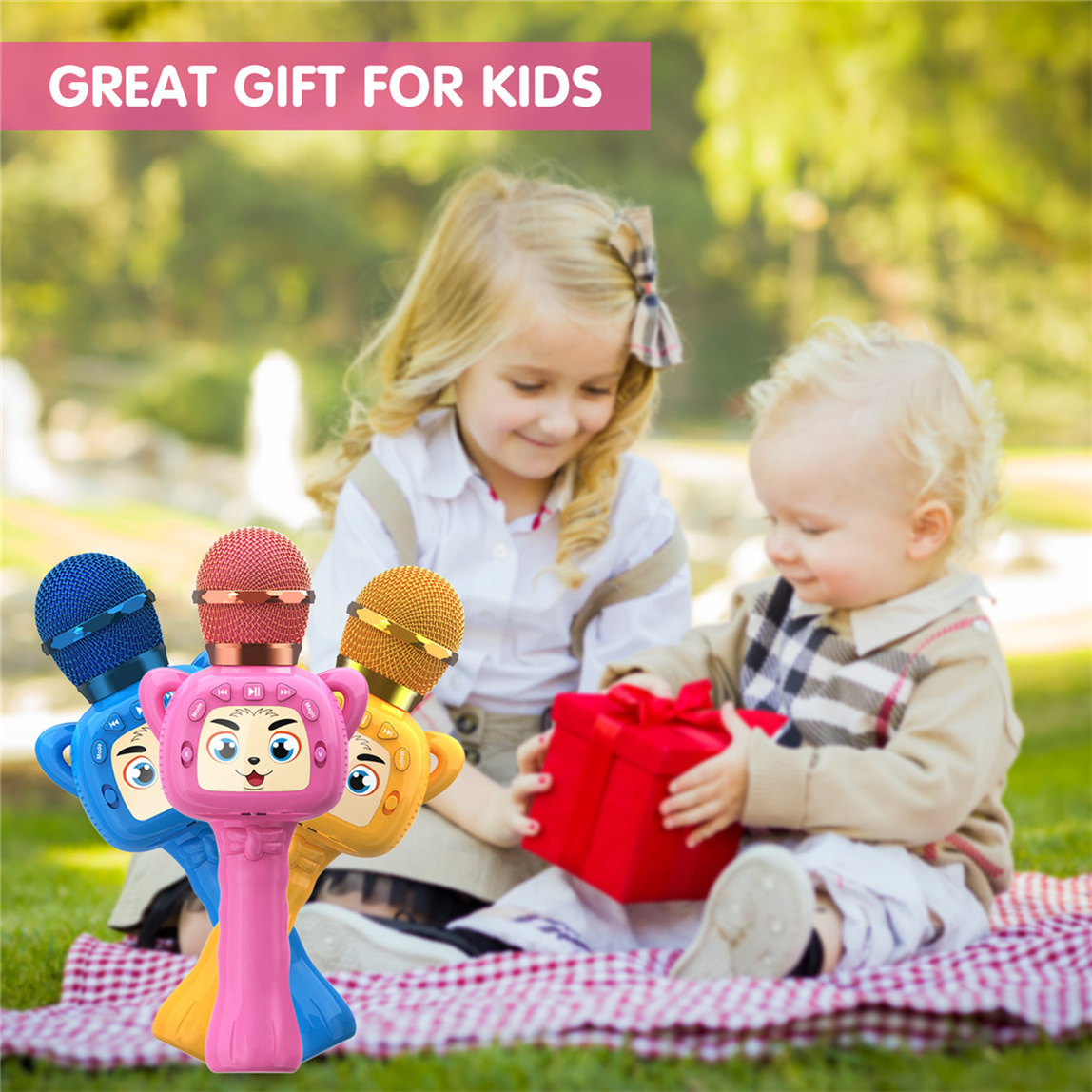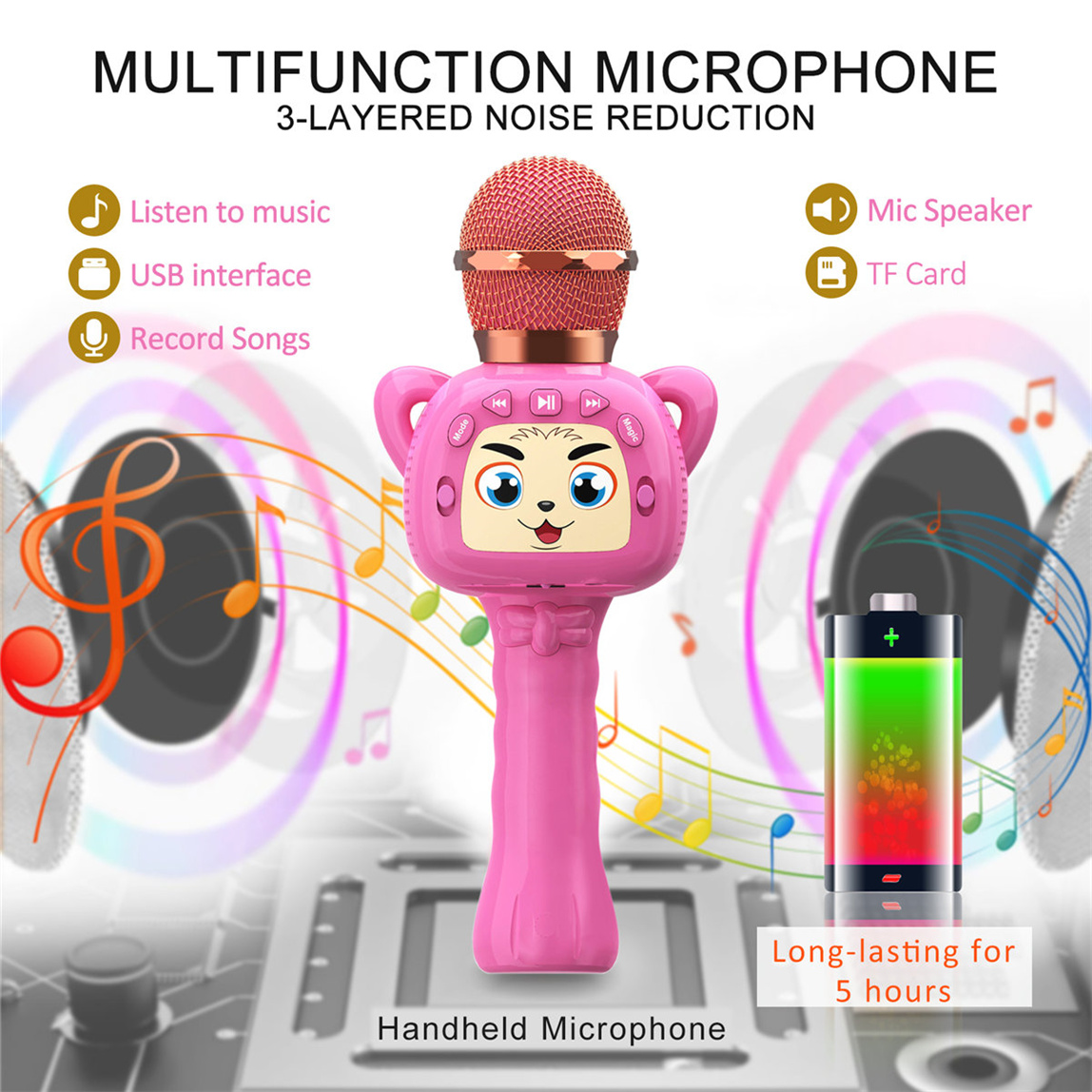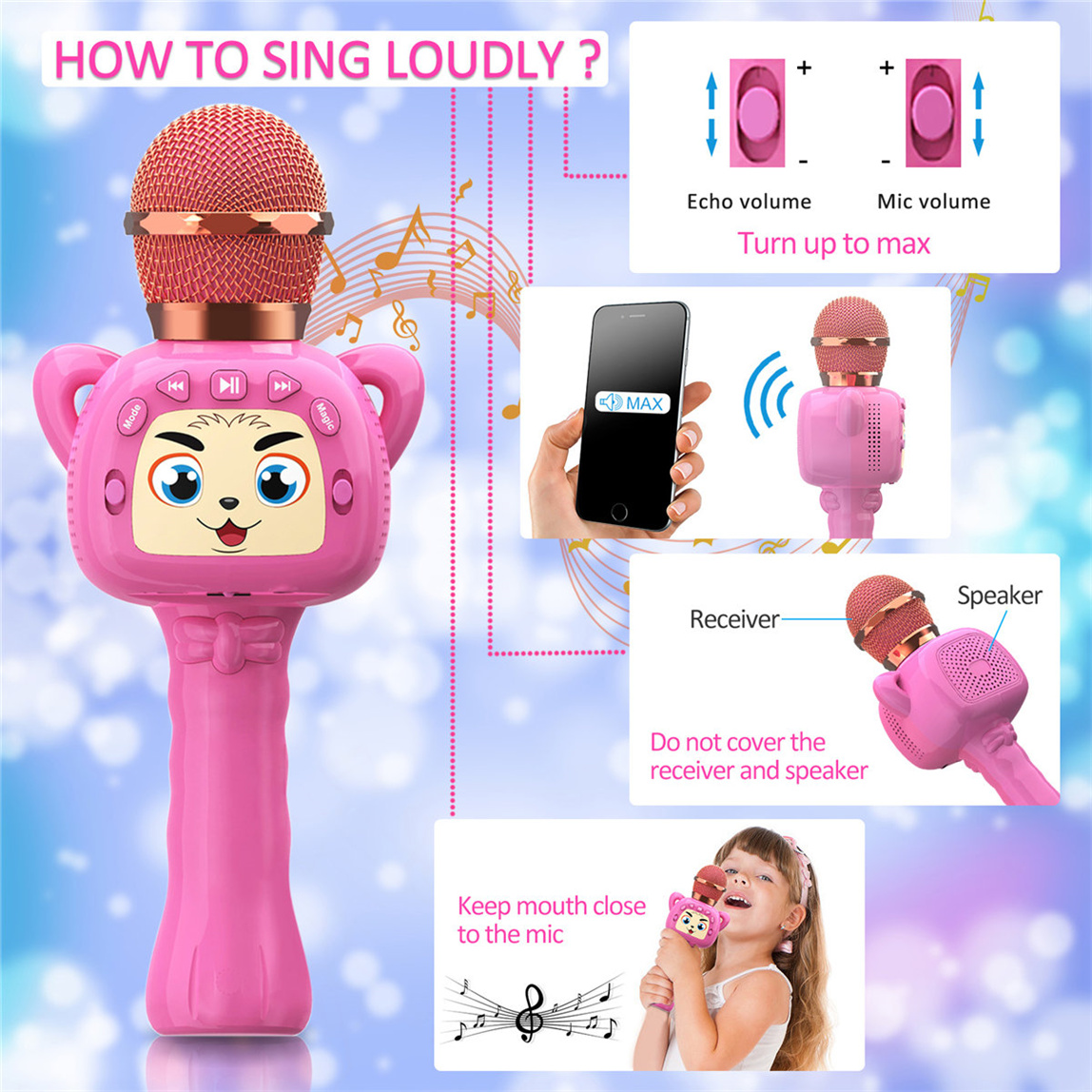 Product Design and Quality
The first thing you will notice on Mic-K17 wireless kids microphone is the color. It comes in three different, yet outstanding colors which are
pink, blue, and yellow. The product is suitable for all kids!
It has a portable karaoke machine attached to it and it can work as a speaker as well. The sound is from the speaker on the back of the microphone. What is more, the speaker can play dance music and kids can dance with friends.
Mic-K17 wireless kids microphone is made from high-quality plastic. By using such material, the microphone is lightweight, has better portability, and durability, and feels generally well in hands.
There are 7 buttons inbuilt into the wireless speaker that's attached. Kids can get to control everything with a fingertip.
It's the best when it's used with a Bluetooth connection in my opinion. But in case there is a call that interrupted your singing fun with kids, you could also play with a TF card. Just download the songs you love and play directly with the card!
As mentioned earlier, this microphone is pretty lightweight due to its build and it weighs only approximately 350g.
Acoustic Performance
The MIC-K17 has an awesome acoustic performance as well.
Inside, there is the most advanced high-quality intelligent chipset that is surrounded by 3 layered anti-noise filters. Such a combination offers clear reverberation while keeping the noise as low as possible.
What really makes it great is how smoothly it mixes the voice with the music. It kind of lifts the voice automatically to match the music. You will definitely feel like a singer.
There is a chipset Bluetooth 5.0 inside the wireless microphone which makes the connection fast and easy. The battery is rechargeable that can last between 4 and 6 hours of play.
WHAT YOU GET
• 1 X Karaoke Microphone;
• 1 X Micro USB Charging Cable;
• 1 X Protective Pouch
• 1 X 2GB/4GB/8GB/16GB/32GB Micro SD card (Optional);
• 1 X User Manual.
kid microphone, microphone toy, kid microphone toy manufacturers
Item Weight

12.1 ounces

Package Dimensions

9.96 x 4.45 x 3.19 inches

Batteries

1 Lithium ion batteries required. (included)

Connector Type

USB

Battery type

Lithium Ion

Hardware Platform

Tablet, Smartphone

Power Source

Battery Powered

Brand Name

Fortech

Certification

FCC ID and ASTM

Model Number

Mic K17

Suitable for

Kids

Communication

Wireless, Bluetooth

Place of Origin

Guangdong, China

Microphone

Capacitance

Output power

4Q 3W (Speaker Output)Frequency

Range

10OHz 10KHz

Reverb Mode

Echo sound reverberationPower

Supply

Builtin LHion Battery

Charging Voltage

DC 5V

Battery Capacity

1200mah

Package Includes

1 x Karaoke Wireless Microphone, 1 x Detailed Microphone User Manual, 1 x USB charging cable 1 x Gift Box Package